How to find a Dell serial number and warranty information
Article ID: 799 | Last Updated: Wed, Mar 1, 2023 at 2:50 PM
HOW TO FIND A DELL MODEL, SERIAL NUMBER, AND WARRANTY INFORMATION
 
If your Dell computer is not working, look for a label that has the serial number.
 
On Dell computers, the Dell Service Tag is the serial number. On a desktop, the label is probably located on the back of the computer case, but can also be located on the top or side of the system. On laptops, it is usually on the bottom, but look at the rest of the outside of the computer if you cannot find it.  It can also be under a flip tab. It will contain information like this:

If your Dell computer will not turn on you can go to the link below on another computer and fill in your service tag to find out about your warranty.


IF YOUR DELL COMPUTER IS WORKING, FOLLOW THESE STEPS.
If your Dell computer is working, follow these steps.
 
Go to https://www.dell.com/support. You may have to install Dell Support Assist in other for this to work (a link should be provided from this page). Once you have it, the model of your computer and Service Tag will show here.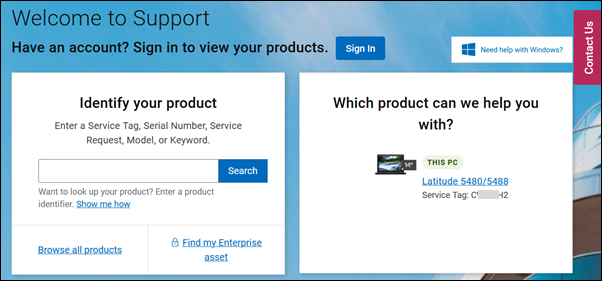 Now you will see this.  You may click on View Details if you want more information.

To complete a Cherwell laptop support form, you may select as follows on this laptop:

Make: Dell Latitude
Model: 5480/5488
Serial Number: the entry beside Service Tag
 
Another way to find a computer serial number is to search for Command Prompt from your Windows search and then start the Command Prompt.
Type in wmic bios get serialnumber and press enter. Your serial number should be displayed.
 

If you have more questions, email ITHELP@clemson.edu  or call 864-656-3494.