How to download software in Microsoft Azure
Estimated Reading Time: 1 Minutes
These instructions are on how to download Windows, Project, Visio, Visual Studio, and other software for Clemson students.
You can access your account at https://azureforeducation.microsoft.com/devtools.
Click on the blue Sign in button on the right side of the page. A Microsoft box will appear, then choose your Clemson account. On your Organization's sign-in page, enter your Clemson email address and password. Then click Sign in. Another box will appear to stay signed in with a yes, no, or don't show it again. You might also have to do a text message or phone call verification.
Once you are logged in, follow the instructions below for finding software downloads.
Click on Software.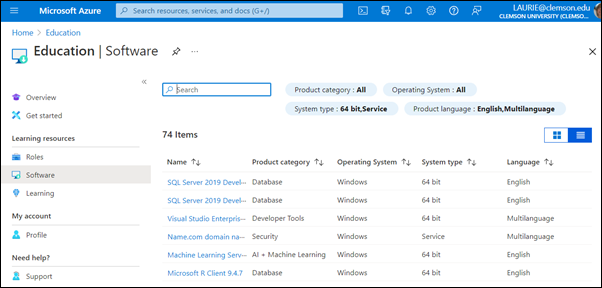 Here are the steps to download and install an application.
Select the software you want to install or type the name of the software in the Search box.
Click on the View Key button and copy the Product key to the clipboard.
Click on Download and then open or save the file. If you save the file, you will find it in your Downloads folder.
To complete the installation, open the file and click on Setup.
The first time you start the application, it may ask for the Product Key that you copied. Paste it in.
It may ask you to Activate Office. If it does, click Accept and Start.
Azure is only available for students. Employees can purchase a license for some software not included in their MS license on this page:
https://secure.touchnet.net/C20569_ustores/web/store_cat.jsp?STOREID=68&CATID=471
If you have more questions, email ITHELP@clemson.edu or call 864-656-3494.