Solution to Error on Macs Connecting to Oracle with Tableau
Estimated Reading Time: 1 Minutes
There is an issue with connecting to Oracle on Macs with Tableau. The solution is below.
Here is the error that user would receive: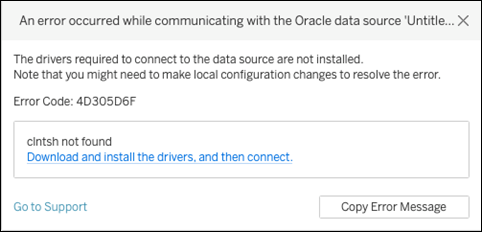 HERE IS THE SOLUTION:

By default, Tableau's drivers are in this directory: Macintosh HD/Library/Tableau/Drivers
Navigate to this directory and locate the file ojdbc8.jar
If the file is missing, download it here: https://www.oracle.com/database/technologies/appdev/jdbc-downloads.html
Copy and paste the ojdbc8.jar file to this directory: Macintosh HD/Users/[user name]/Library/Tableau/Drivers
This is a hidden directory, so you will need to turn on hidden files on Macs to see it.
Restart Tableau and connect to Oracle
If you have more questions email ITHELP@clemson.edu or call 864-656-3494.