Article ID: 707 | Last Updated: Wed, Mar 1, 2023 at 1:26 PM
BOX FOR OFFICE is an app that allows Box users to save files from MS Office Word, Excel, and PowerPoint directly into a box.com account (including a Clemson one).  If you install Box for Office and open Word, Excel, or Powerpoint - when you save a file, there will be a Box option. The first time you use it, you will need to sign into your Box account. Subsequent times, you will just see the Box option and have the ability to browse all of your Box folders (or see recent ones). 
Here are some of the other apps available:
Box Sync - Allows you to specify folders that will appear in your Documents on your computer.  As  you make changes to files from either the browser or that computer, the changes will sync (as soon as the computer is connected to the Internet).  In this case you can open and save MS Office documents, but only in the folders you are syncing.
Box Edit - From the browser, you have the option to edit .docx, .xlsx, or .pptx files that are stored in Box using the MS Office Word, Excel, and PowerPoint that you have installed on the computer. When you save any changes, they will be reflected in the Box folders online.
---

HERE ARE SOME INSTRUCTIONS TO INSTALL BOX FOR OFFICE
Open http://clemson.box.com and log in (you may have to use DUO two factor authentication).
In the upper right hand corner of the browser, you will see your initials or picture in a circle. Click on the circle and then click on Apps or App Center.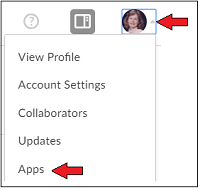 At the top of the screen, you will see a search box. Search for Box for Office and then click on it.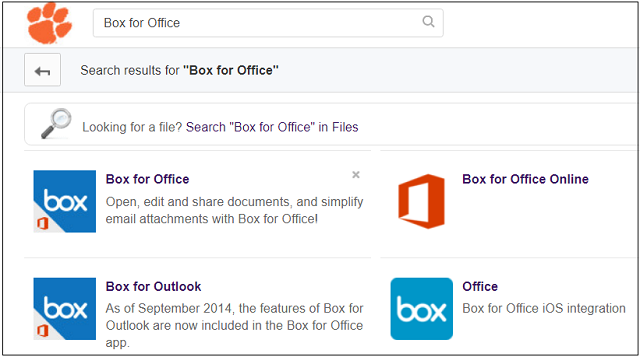 Click on Add, Download, and Install the application. Once it is installed and you open Word, Excel or PowerPoint, you will see Box as an option when you open or save a file.  The first time you try to use it, you will need to log in to your Box account. Here is an example where Word has been opened, and when Save was selected, Box is clicked.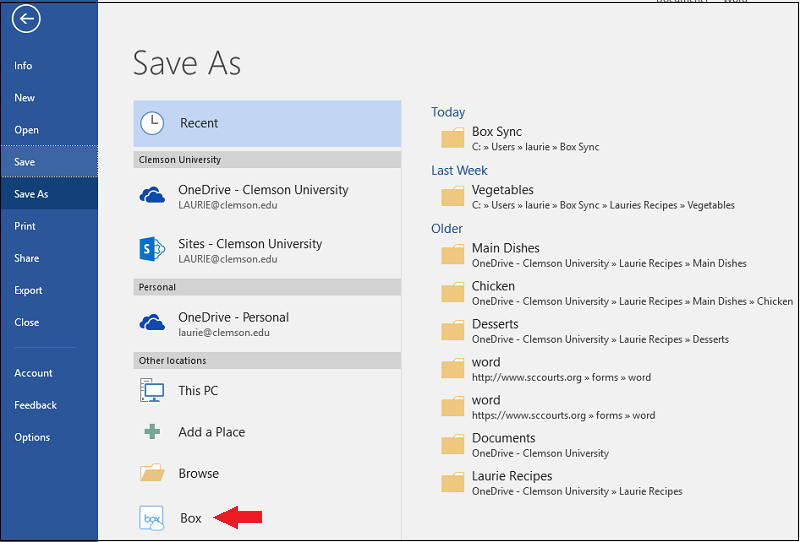 Next the account verification will begin. Click on Sign in.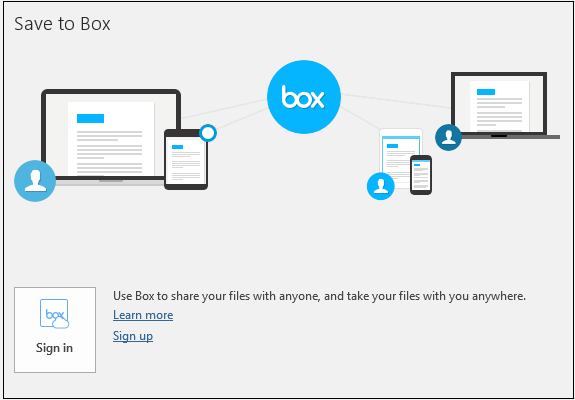 To verify you are a Clemson user, click Use Single Sign On:
Next the Password field will be gone. For user name, put in your Clemson user name and add @clemson.edu to verify you are a Clemson user.  Click Authorize.
You will enter your Clemson user name and password in a Clemson log in screen. Then you will complete Clemson Duo. Once all of that is finished, you will have the option to browser your Clemson Box to find the folder for your file.
If you have more questions about Box for Office, email ITHELP@clemson.edu or call 864-656-3494.