OneDrive in Canvas for Instructors
Article ID: 2122 | Last Updated: Wed, Apr 14, 2021 at 11:02 AM
You can now link to Microsoft OneDrive in your canvas course using the Office 365 App in the Course Menu.
The Office 365 link in Canvas allows instructors and students to share their OneDrive files including viewing and editing depending on the sharing options they set up on the files or folders.
This article will include three sections:
How to Share your file in OneDrive (must be done first if you want students to see your file)
How to post your OneDrive file in Canvas
How to add a link to a OneDrive file in Canvas
ONEDRIVE SHARE
Log in to your OneDrive.
Navigate to the file you want to turn in as a Canvas Assignment. Click beside it to select it. Click on Share. Click on People you specify can edit.

Now click on People in Clemson University with the link. And click Apply.  (This is the recommended option.  But it is not the only option. You may click here for an article on the other options.)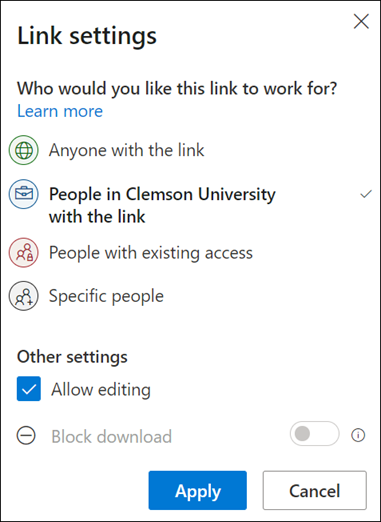 SET UP OFFICE 365 APP IN CANVAS
If you want to add a link to a OneDrive file in a Canvas Page, Discussion, Announcement, Assignment, or Quiz, here is how to set it up.
Go into the module where you would like to add it. In this case we are in an Assignment.
Click on Tools, Apps, View All.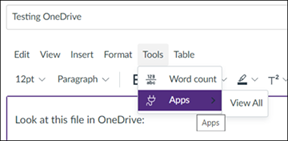 Select Office 365.  
You will need to log in to your Office 365 the first time and go through a few set up steps that include your Clemson authentication and permission.
HOW TO ADD A LINK TO A ONEDRIVE FILE IN CANVAS
1. When it is finished installing, you will see Office 365 in two places in the Canvas Editor:

2. When you select Office 365, it will take you to a list of the files in your Microsoft OneDrive. From there, you may navigate to the file you would like to share.  Please note that before doing this, you should make sure you have set that file to be shared with your students (either individually, or by selecting "People in Clemson University with the link", or "Anyone with the link".  In this example, we have set a file to be shared. Then we navigated to it and clicked on the box beside it to select it. Then we clicked Attach File.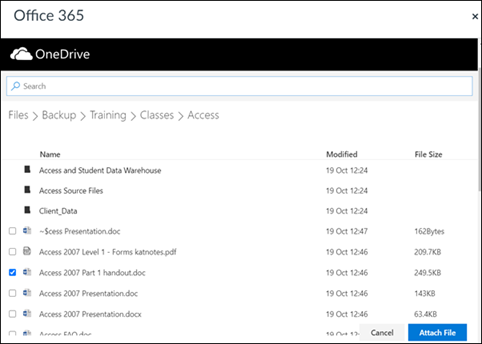 3. Now the name of the selected file will show up in the Assignment as a link to the file.

Click here for a document on OneDrive RTI for Instructors which provides more information on this topic.
Click here for an article on student use of OneDrive in Canvas.
Here is a Clemson blog post on OneDrive LTI
If you have more questions after that, email ITHELP@clemson.edu or call 864-656-3494.