How To: Connect to eduroam on your Computer
Estimated Reading Time: 2 Minutes
To connect to Clemson's wireless network, eduroam, please follow the instructions below for your operating system.

MAC OS
1. Click on the
Wi-Fi
icon in the top menu. Select
eduroam
.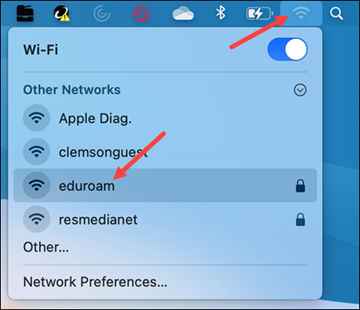 2. When prompted, log in to the eduroam network with your Clemson
username@clemson.edu
and Clemson
password
. (NOTE: Do NOT enter it in the format of a Gmail address, i.e. username@g.clemson.edu.) Click
Join
.
WINDOWS 10

1. On the Windows taskbar in the lower right side of the screen, you will see a network icon. If it looks like an airplane, then your computer is in airplane mode. If you click on it, you can switch it to Wi-Fi mode by clicking on Wi-Fi. The selected option is blue.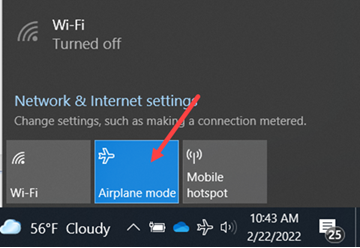 2. If Wi-Fi is turned on, you will see the
Wi-Fi
icon in the taskbar as shown below. Click on it.


3. You should see the blue Wi-Fi option turned on. Click on the eduroam network.
4. You will see options to Connect automatically and Connect. It is recommended that you click on both of those.


5. For user name, enter your Clemson
username@clemson.edu
and your Clemson
password
. (You must include '@clemson.edu' after your user name for eduroam to connect. Do not use @g.clemson.edu or your Clemson Google password.) Then click OK. You should connect.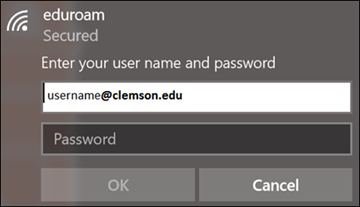 CHROMEBOOK

To connect to eduroam on a Chromebook, please follow the steps below:

In order to log onto a Chromebook you will need an internet connection.

1. Open the dropdown menu next to Select a network.

2. Choose eduroam and the Join Wi-Fi

3. Settings are as follows:

EAP method: PEAP
Phase 2 authentication: MSCHAPv2
Server CA certificate: Default (note: you have to select from drop down)
User certificate: None Installed
Identity: username@clemson.edu (be sure to include @clemson.edu)
Password: use your Clemson or Canvas/iroar password
Anonymous identity: leave blank
Click Connect.