Connecting to Clemson Guest
Article ID: 588 | Last Updated: Wed, Feb 16, 2022 at 3:14 PM
Clemson provides a guest wireless network for non-Clemson users to connect to while on campus.

This network no longer requires any login information. You will simply need to connect to the network, and before you can start browsing, it will have you accept the terms of use to connect to the network. 
The device you use to connect to ClemsonGuest will be remembered on the network for the next 7 days. 
Clemson users should use the wireless network eduroam. Clemson Guest is only for non-Clemson users. If a Clemson user is using ClemsonGuest, he should select it and select Forget before proceeding. Click here for instructions on how to connect to eduroam.

To connect, please do the following steps:
1. Open your wireless connections and click clemsonguest.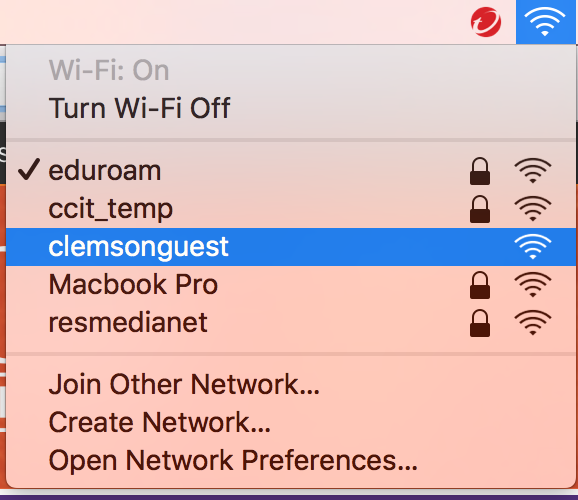 2. Wait for a dialog box to pop up with a checkbox to accept the terms. Please read through the terms, then you must check the box that says "I accept the terms of use", and click on Log in.
If this does not pop up automatically, you may need to manually open your web browser and try to navigate to a webpage before it will redirect you here.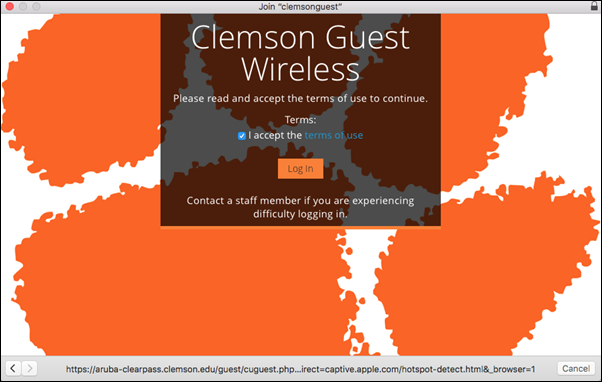 3. You may also get a warning when connecting that looks like the following. Press Continue to accept the wireless certificate and connect to the network. 

4. Once you click that, you should be successfully connected.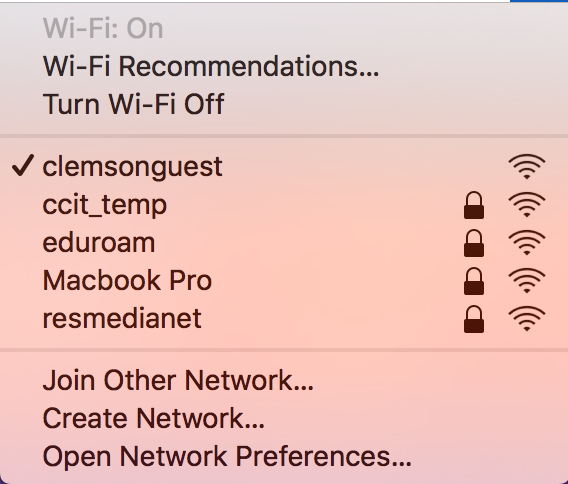 If you have more questions, email ITHELP@clemson.edu or call 864-656-3494.