HOW TO: Connect to eduroam using Windows 10
Article ID: 480 | Last Updated: Tue, Apr 12, 2022 at 9:40 AM
Here is a video on connecting to eduroam at Clemson on Windows 10:
Here are the steps:
1. On the Windows taskbar click on the Network icon. 

2. The list of wi-fi networks will appear on the right side of the screen.
3. Select the eduroam network. Then click Connect.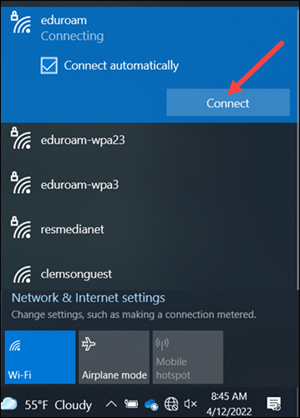 4. Enter your username@clemson.edu and your Clemson password. (You MUST include '@clemson.edu' after your user name for eduroam to connect - do not include a "g".)  Then click OK.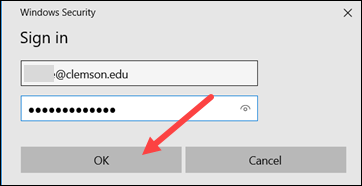 5. Now you will see that you are connected to eduroam and you will see the wi-fi icon in the taskbar.
If you have more questions on this, email ITHELP@clemson.edu or call 864-656-3494.