Article ID: 313 | Last Updated: Wed, Sep 9, 2020 at 9:05 AM
For nearly 20 years, Clemson has had a service called people.clemson.edu that allows students, faculty, and staff of the university to have a place to publish personal web pages. We've all seen the familiar web addresses like: http://people.clemson.edu/~username
In the last several years with the advent of social media sites like Facebook, LinkedIn, Twitter, and photo sharing sites like Flickr, Google+ and others, use of the the People Pages has a seen a steady decline.  In addition, the underlying servers and filesystems are getting older and need updating.  To help address these changing needs we have gone back to the drawing board and built a new People pages service using modern technologies that will be viable for many years to come.
There are several improvements and differences that you will see:
Requesting Personal Webspace:
Webspaces are no longer automatically provisioned. If you previously have used your webspace, those pages will automatically be carried over the the new system.
If you have never user your personal web page, then you will be required to request access at the following link (http://www.clemson.edu/ccit/request_resources/webmaster/web_space_request/index.html) before the webspace will be provisioned to you.
No Novell Client Needed
With the old service web files are stored and edited on the Novell network drives.  The new service uses WebDav, a standard built into Windows, Apple and Linux operating systems.  Third party applications such as Webdrive and Cyberduck are also available.  WebDav apps even exist in the iOS and Android app stores.
Not Just on Campus
With the old service you had to either be on the Clemson network or connected via the Clemson VPN to edit your files.  With the new service you will be able to edit over any internet connection that can get to www.clemson.edu.
SSL and Shibboleth Protection
The old service offers only http access.  With the new service all sites will support both http and https connections.   Also, with the old service you can create htaccess.txt files to limit access to your web pages.  With the new service you will still be able to do this using our campus Shibboleth single-sign-on system. If you had an existing htaccess file, we have automatically converted it to the Shibboleth format. If you need to create a new htaccess file, you can find Shibboleth attribute and formatting examples here:  https://ccit.clemson.edu/services/technical/web-services/diy-web-tools/htaccess-control/.
Modern Naming
With the old service everyone shares one server name and each person's site is a path under that server:  ie. http://people.clemson.edu/~username.   With the new service, everyone gets their own top-level server name:   https://username.people.clemson.edu
Search Engine Indexing
With the old service search engine indexing was turned off for the whole server.  There are technical limitations making it very difficult to allow some people's pages to be indexed and others not.  With the new service everyone gets a choice.  Search engine indexing is blocked by default but it is extremely simple to opt-in by deleting the robots.txt automatically included with your site.
When can I move to the new service?
ASAP!  Anyone who had any data in their public.www has already been migrated to the new service. Anyone who would like to configure a new site can submit a request HERE , and and we'll get you started.  We'll send you an email when you are ready to go.
When will the old service go away?
The old service will be disabled on Feb 20th, 2016, so you'll need to switch to the new service by then.  Don't worry, if you previously had a site, we already moved your files over for you. We will also automatically redirect your old addresses to your new site.
How do I use WebDav to edit my site?
The method varies according to which operating system you prefer, but the basic are like this.
In addition to your new site's "viewing" addresses ( http://username.people.clemson.edu or https://username.people.clemson.edu)  , your site also has an "edit" address. When your WebDav client asks for this edit address you will need to enter 'https://username-edit.people.clemson.edu'.  When prompted for a username and password you will use your Clemson username and password.  With native clients on Windows, Mac and Linux machines, once you connect your site appears as folder on your computer. As you edit files in that folder, they are being edited on the web server. That is it! Below are some links for how to use WebDav on various systems.
Windows Access:
Microsoft Windows has a built-in WebDav client you can use by simply mapping a network location or network drive. Directions can vary based on your OS version, but Microsoft has directions for Windows 7 here and Windows 8 here . Once you have the Map Network Drive dialog window open you will need to enter the details below substituting your Clemson username in the folder path.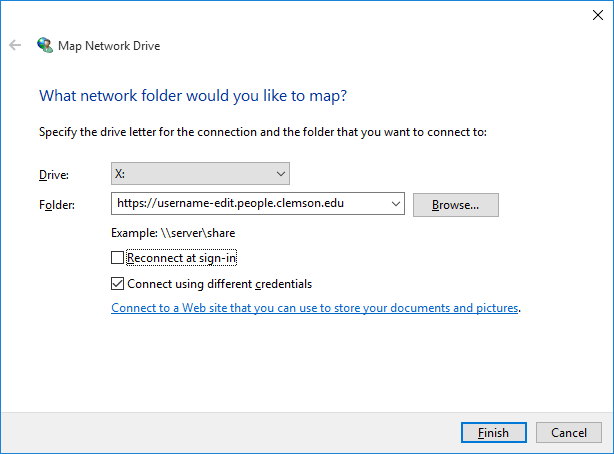 Or via a command prompt:
net use w: https://username-edit.people.clemson.edu /user:username
Mac Access: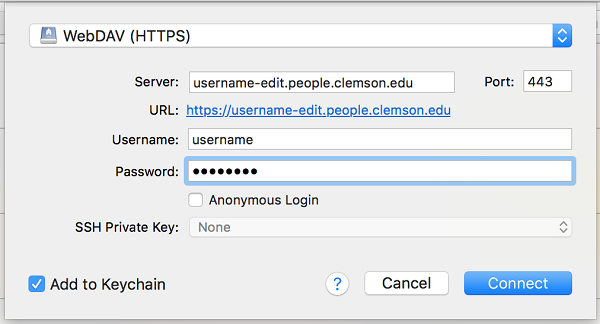 Due to a known issue with the OS X Finder WebDAV client, we suggest people use Cyberduck  when attempting to edit their page from a Mac. 


Linux Access:

or via the console:
mount -t davfs -o username=username,rw,dir_mode=0777,file_mode=0777 https://username-edit.people.clemson.edu /mountpoint/
Known Issues / Limitations 
Windows poor performance:
On Windows 7 web client edits can be extremely slow.  To fix this you have to turn off the network autodiscover feature.
Control Panel

Internet Options

Connections

LAN Settings

Uncheck the box that says "Automatically detect settings"
Unauthorized Access error:
When you open username.people.clemson.edu in a browser, you get an Unauthorized Access error page. To fix this, you need to have an index file with one of two pre-determined file names:
This file will be the page that is displayed when you browse to username.people.clemson.edu .