Personal Web Space
---
             Here are some instructions to set up a personal web space at Clemson that will be available at the address:  https://username.people.clemson.edu
REQUESTING PERSONAL WEBSPACE
Webspaces are not automatically provisioned. If you have never used your personal web page, then you will be required to request access at this link: https://www.clemson.edu/webmaster/personal-webspace before the webspace will be provisioned to you.
APPLICATIONS TO EDIT YOUR WEB PAGE
This service uses WebDav, a standard service built into Windows, Apple and Linux operating systems.  Third party applications such as Webdrive and Cyberduck are also available.  WebDav apps even exist in the iOS and Android app stores.
SSL AND SHIBBOLETH PROTECTION
With the service, all sites will support both http and https connections. You can create htaccess.txt files to limit access to your web pages to Clemson users.  With the service, you will still be able to do this using our campus Shibboleth single-sign-on system. If you need to create a htaccess file, you can find Shibboleth attribute and formatting examples here:  https://ccit.clemson.edu/services/technical/web-services/diy-web-tools/htaccess-control/.
SEARCH ENGINE INDEXING
Search engine indexing is blocked by default but it is extremely simple to opt-in by deleting the robots.txt automatically included with your site.
HOW DO I USE WEBDAV TO EDIT MY SITE?
The method varies according to which operating system you prefer, but here are some basic instructions.
In addition to your site's "viewing" addresses ( https://username.people.clemson.edu ), your site also has an "edit" address. When your WebDav client asks for this edit address you will need to enter 'https://username-edit.people.clemson.edu'.  When prompted for a username and password you will use your Clemson username and password.  With native clients on Windows, Mac and Linux machines, once you connect, your site appears as folder on your computer. As you edit files in that folder, they are being edited on the web server.  Below are some links for how to use WebDav on various systems.
WINDOWS ACCESS
There are several WebDav clients that can be used in Windows 10 to access your Clemson network files.  One you can use is WinSCP. You can go to this page to download and install it (using the default choices):  https://winscp.net/eng/index.php
Once you install it, you will need to fill in this information replacing "tiger" with your Clemson username.
File protocol: WebDAV
Encryption: TLS/SSL Implicit encryption
Host name: username-edit.people.clemson.edu
Port number: 443
User name: your Clemson username
Password: your Clemson password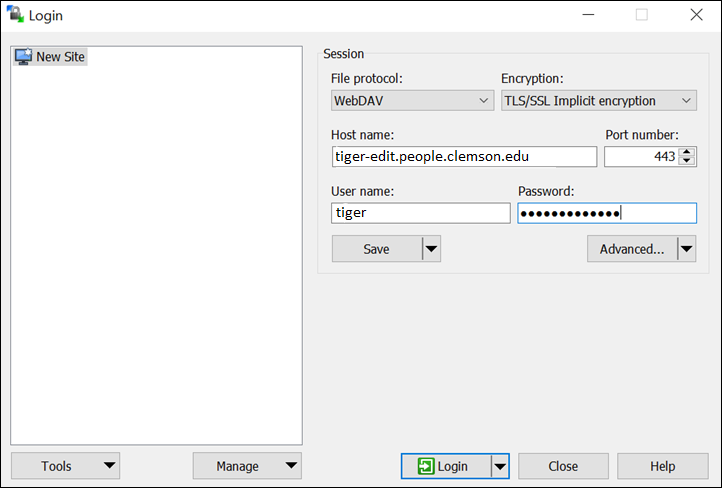 Then click Login.
Note: Accessing and editing username-edit.sites.clemson.edu is no longer supported via the built in File Explorer, as there are known performance issues. Please use a program like WinSCP to edit these websites.
MAC ACCESS
For Mac, install Cyberduck https://cyberduck.io/download/
Open Cyberduck and fill in these fields as shown in the screenshot below.
Make sure you select WebDAV (HTTPS). 
Put in 443 for the Port.
Replace "username" with your Clemson username under both Server and Username.
Fill in your Clemson password.
Then click Connect.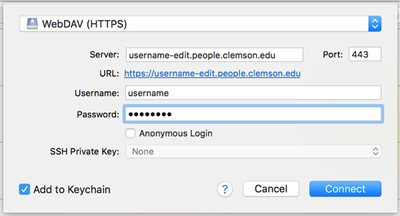 Due to a known issue with the OS X Finder WebDAV client, we suggest people use Cyberduck when attempting to edit their page from a Mac. 
LINUX ACCESS

or via the console:
mount -t davfs -o username=username,rw,dir_mode=0777,file_mode=0777 https://username-edit.people.clemson.edu /mountpoint/
KNOWN ISSUES / LIMITATIONS 
Unauthorized Access error:
When you open username.people.clemson.edu in a browser, you get an Unauthorized Access error page. To fix this, you need to have an index file with one of two pre-determined file names:
This file will be the page that is displayed when you browse to username.people.clemson.edu .
Click here if you would like to request a Departmental Webspace.
If you have more questions, email ITHELP@clemson.edu or call 864-656-3494.
---
Article ID: 313
Created On: Mon, Feb 1, 2016 at 12:17 PM
Last Updated On: Wed, Nov 16, 2022 at 10:38 AM

Online URL: https://hdkb.clemson.edu/phpkb/article.php?id=313