PaperCut Card Reader
Estimated Reading Time: 3 Minutes
PaperCut has replaced iPrint as Clemson University's new print server providing more security, sustainability, trackable printing and copying, Scan-To-Me, Find-Me printing, Mobility printing and Web Print.  Here is a 2-minute video demonstrating the Ricoh Copier interface with PaperCut:
Video Link for the Ricoh MFD using PaperCut  
(Note: Clemson will not be using an ID Number login)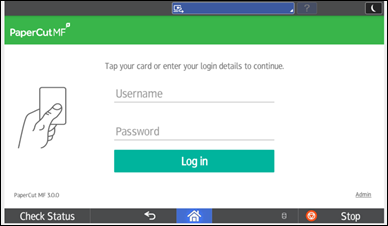 Clemson employees will be able to log in to PaperCut enabled devices using their TigerOne card or TigerOne Mobile ID at the installed Card Reader next to the screen, or manually entering their Clemson username and password. They will then be able to retrieve their print jobs, use the device functions, or utilize the Scan to Me feature.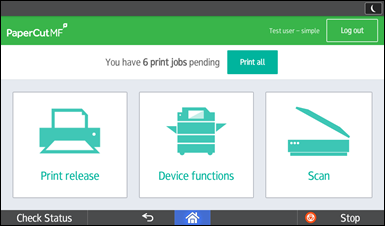 EMPLOYEE PRINTING
Employees will need to have the new EmployeePrinting queue installed on their computer to print. If you have a shared computer, you will need to contact your IT support to install the queue. If you are the only user of your computer, you can follow the instructions below for Mobility Print. The queue you will print to is called EmployeePrinting. After sending a job to EmployeePrinting queue, you will be able to walk up to ANY PaperCut enabled Ricoh MFP and log in to release your job(s). This feature is called Find-Me Printing. Documents will not be printed until you log in at a MFP and release them. Print jobs will auto-delete after 48 hours if they have not been released.
Once you are finished at the printer, use your card again to log out or press Log out.


MOBILITY PRINT
This allows you to print from your computer, phone, or tablet.  You will need to have your device connected to Clemson's network (whether that is via ethernet, eduroam, or the VPN when off campus). This will not work from Clemson Guest wifi.  Only use this method for single user computers. For shared computers, contact IT support.  Follow the link below for instructions specific to your device type. Mobility Print currently supports Windows, macOS, iOS, Android, and Chrome OS.  Employees need to choose a queue named EmployeePrinting.
Here is an article on set up: Setting up a Mobility Print Device
WEB PRINT
This is a feature that will allow you to print a PDF file or picture from your device at your PaperCut Print Summary Page to a PaperCut Enabled Device on campus.  This allows you to print through the web and you do not have to be on campus.  You will be asked to log in with your Clemson credentials for authorization. You can use this from home or on the go.
Open your web browser and go to  https://papercut.clemson.edu/user
Login with your Clemson credentials
On the left side of your Printing Summary page, select Web Print
Follow the instructions on the screen
Release at the device when you arrive (Remember you have 48 hours to release)
or release the job from the web portal
  (Note:  The following file types are allowed for Web Print: pdf, bmp, dib, gif, jfif, jif, jpe, jpeg, jpg, png, tif, tiff)
If you have more questions, email ITHELP@clemson.edu or call 864-656-3494.