PaperCut Printer and Plotter Setup for Windows
Estimated Reading Time: 2 Minutes
SETTING UP PAPERCUT PRINTERS FOR WINDOWS
Temporarily you will need to either be on campus or using CUVPN before sending print jobs to PaperCut. 
Download and run the PaperCut Installer from download.clemson.edu.

Click Install.  You will be asked for your Username and Password if you are an employee with a domain joined computer. If you are a student or an employee with a computer that is not domain joined, you will only see the Install button.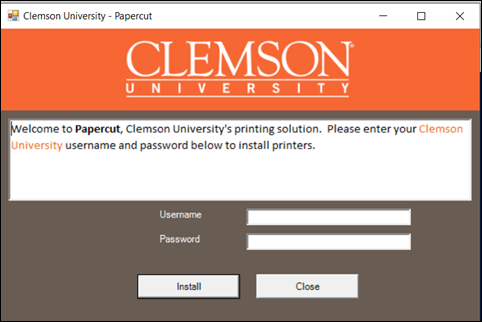 When the installation is complete, click Close.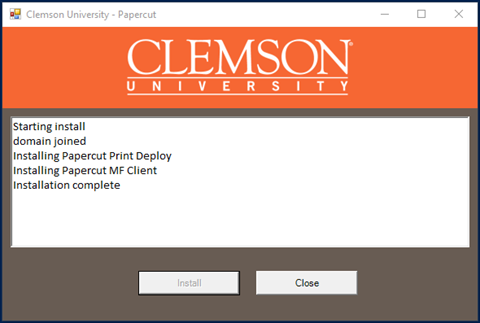 Next Print Deploy will begin if your computer is not domain joined.  It will look like this. Fill in your Username and Password and click on Sign in and add printers.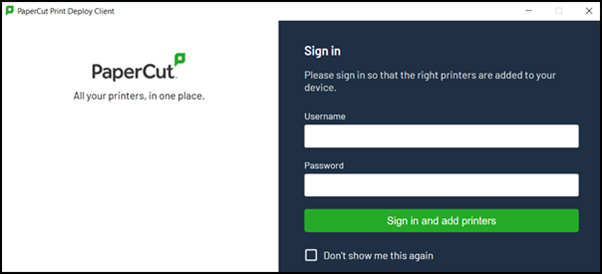 You will see some progress as printers install, and then all of your printers will show.  The printers that install may depend on your Clemson status.  Note that there are options to add printers or change users later if you need to do that.
Optional printers, such as the Self-Service Plotters located at Lee Hall and the Design Center in Charleston, can be installed by clicking "Add printers" and then clicking "Install" for the appropriate printer.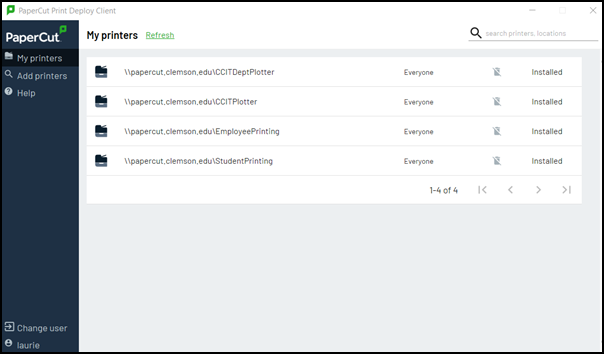 The printers and scanners will now be available on your computer.  You can also see them by going to your Printers and scanners. If you are an employee, you may see a set that looks like this: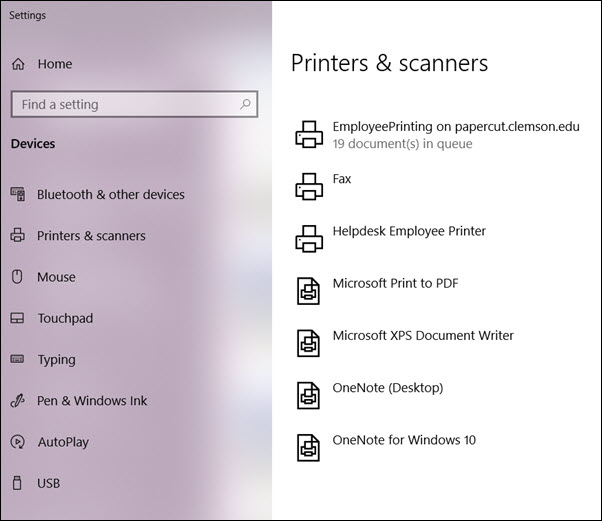 If you are printing to a public PaperCut Printer, after sending the job to the queue, you will need to go to the printer and swipe your TigerOne card to print.
To see your print job queue, go to https://papercut.clemson.edu and log in.
If you are printing to a plotter, you will need to pick up your print on the second floor of Cooper Library.  If you incorrectly submit a plot or need to delete it from the queue for any reason, please call us immediately at (864) 656-4766.  The user has no direct access to their plot once it has been submitted. If the plot that was submitted has already been printed, your account will be charged. 
If you get error messages while installing PaperCut printers, click here for an article about possible solutions.
To learn more about PaperCut Printing Queues and Charges, click here.
To see the PaperCut Printing Overview article, click here.
To see an article on Plotting at Clemson, click here.
If you have more questions, email ITHELP@clemson.edu or call 864-656-3494.