Convert Classic Google Sites to New Google Sites
Estimated Reading Time: 1 Minutes
A tool to convert Classic Google Sites to New Google Sites was released in summer of 2018. Google has announced that there will be one year in which users may continue to edit and use their Classic (old) Google Site. Then there will be three months of read only access. After that, it will be archived.
The tool to convert is not available for all Google Sites and some of the features of old Sites will not be available in the same flavor in the new version. But for most sites starting now, there is an option to use a conversion tool to have the old site converted - and then you may continue to use the old URL or request a new URL.
To convert, first open the old Site from http://sites.google.com (in edit mode). You may see an option at the top of the screen to convert your site:

If you don't see that option, click on the gear in the upper right hand corner, Manage Site, then at the bottom left hand corner you'll see the "Convert to new Sites" option.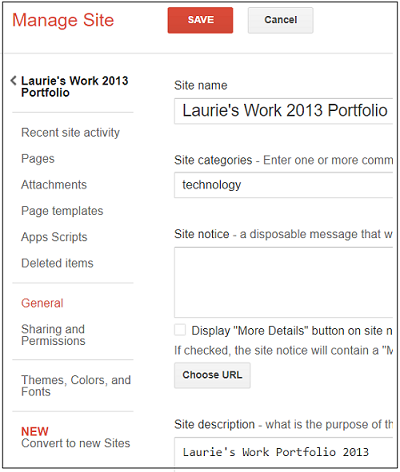 It may take a while depending on the size of your site. At the end, you will be given an option to preview the draft before publishing. You will also be given the option of using the old URL or a new one. Depending on the make up of your site, there may be changes that need to be made to the site before publishing.
If you have more questions about this, you may email ITHELP@clemson.edu or call 864-656-3494.