How to Install Google Drive Desktop
Estimated Reading Time: 2 Minutes
Google Drive Desktop streams all of your Google Drive files and folders from the cloud to your computer. These instructions are for Windows - but it works nearly the same on Macs.


1. Go to your Windows Settings, Apps, Apps & Features and uninstall any Google Drive, Google Sync, or Google Backup and Sync applications you have installed on your computer. Restart your computer.
2. Open Chrome and go to your Google Drive (shortcut: https://drive.google.com). Click on the Gear and Get Drive for desktop.

3. Click on the Download You will see the GoogleDriveSetup file download. Click on the arrow beside the downloaded file and Open to start the installation.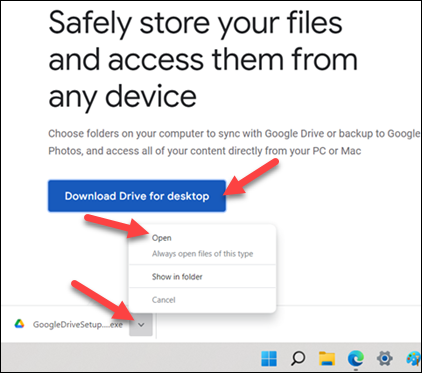 4. It may ask if you want to allow this app to make changes to your device. Answer Yes. It will ask if you want to install Google Drive Desktop. If you prefer, uncheck the shortcut options. Click Install.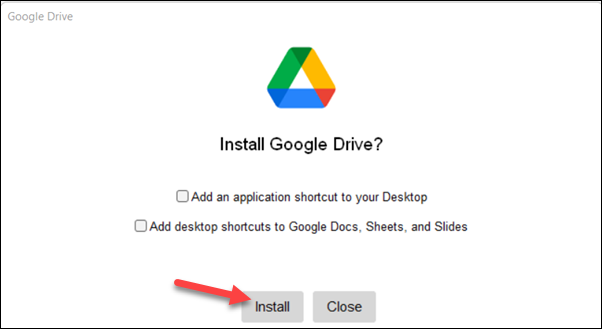 5. It may ask for your Clemson Google account user name. If using a Clemson account, enter username@g.clemson.edu and your Clemson Google password.
6. When it is finished, click Close. Then you should find a Google Drive icon in the tray. Click on it to open it.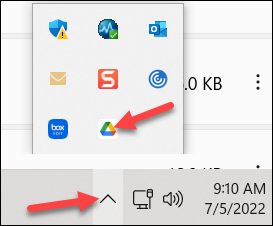 7. You will see the gear for settings and other options.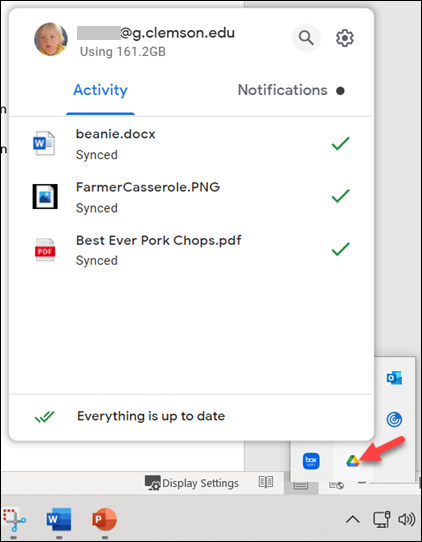 8. Now, if you click on your computer's folders, you will see Google Drive as one of them.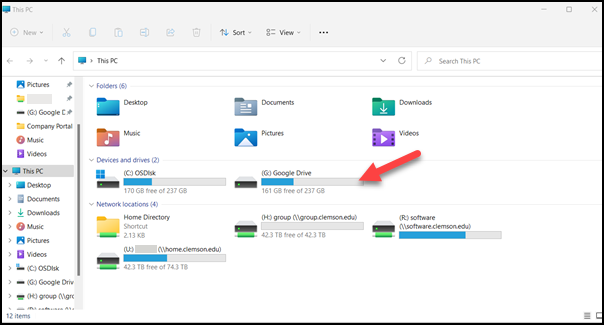 9. If you click on the new folder, you will see all of your Google Drive folders and files. Note that folders have the yellow folder icon. If a folder is shared (like the Bigger Brains folder in this screenshot), you will see a little blue man icon beside the folder. If you open a Google Doc, it will open your browser to show you the file. If you open a Microsoft Office doc and you have MS Office installed on your computer, it will open the corresponding application to show you the file. So in the examples below, Clemson Duo.pptx would open PowerPoint (if you have it installed on your computer). Clemson Duo (1).gslides would open Google Slides in your browser. Revised Google Docs.gdox would open Google Docs in your browser.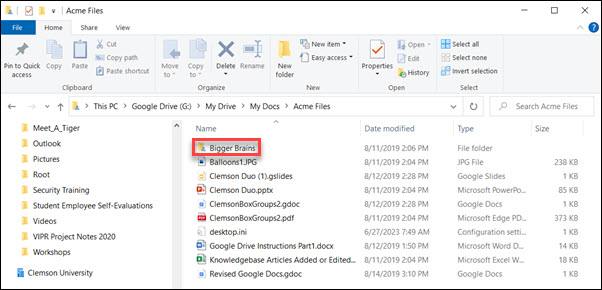 If you have more questions, email ITHELP@clemson.edu or call 864-656-3494.