HOW TO: Reporting junk mail or account abuse of Gmail
Estimated Reading Time: 1 Minutes
REPORTING JUNK GMAIL OR ACCOUNT ABUSE
Use the Report Spam button to let Google know if you received junk email or a spoofed message.
Use the Report Phishing link to let Google know if you have received a phishing message. You will see a red warning message at the top of any emails that are suspected of referencing a phishing site.
To use these tools, while looking at the suspicious message, click on three vertical dots (More button) in the upper right-hand corner, then click on Report spam or Report phishing.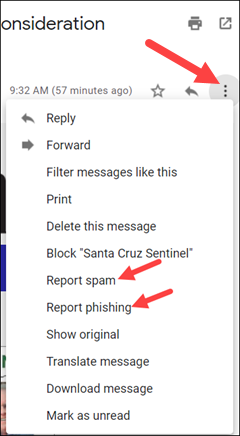 If you think that your Google Apps for Education mail account has been compromised, contact ITHELP@clemson.edu. Please include the header of the suspicious message and the entire message text. To see the header, click Show original in the above menu, then click on Copy to clipboard. In your email to ITHELP, you can paste the header.
You should also change your Google Apps for Education password.
For more information, call 864-656-3494 or email ITHELP@clemson.edu.