How to remotely wipe your Mobile Device via Exchange OWA
Article ID: 629 | Last Updated: Thu, Oct 12, 2017 at 9:13 AM
How to remotely wipe your Mobile Device via Exchange OWA
Use your preferred brower to visit http://outlook.com/owa/clemson.edu and log in using your clemson credentials. 
Click the gear icon in the top right hand corner. 

Next look to the bottom right hand side and select Mail.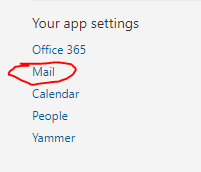 Next, look to the top left and click the drop down box for General. You should now see Mobile device. Click it. Highlight the device you want to wipe, and then click wipe data icon. Choose the option to wipe only data related to this account. Note: If you only have one device listed you will only have one Wipe option.