Minecraft for Education Instructions
Estimated Reading Time: 3 Minutes
Faculty - Requesting Access for Your Students to Purchase Minecraft for Education
Students must be pre-provisioned for Windows Store for Business access in order to buy a $5.00/year Minecraft for Education license. In order to gain access for your class:
Send an email to ITHELP@clemson.edu with the list of your students' email addresses. An Excel spreadsheet or CSV is preferred.
The email text should specify that these are students to be added for access to Minecraft for Education.
Consultants: If routing tickets, they should be assigned to the TigerTracks team "CCIT ISO AAIS AD."
Students/Faculty/Staff - Installing Minecraft for Education
Navigate to https://education.minecraft.net/get-started
Click on I'm a Student or I'm an Educator .
Login with your Clemson email address in the form: username@clemson.edu. Note: @g.clemson.edu addresses will not work.
Download the appropriate version of Minecraft for Education for your machine (Windows or MacOS)


Windows: Unzip the downloaded .zip file, right-click the .bat file contained within it, and select "Run As Administrator" to start the install.
MacOS: Open the downloaded disk image file (.dmg). Drag the "Minecraft Education Edition" icon into the Applications folder icon or double-click "Minecraft for Education."

After install, launch Minecraft for Education and log in with your username@clemson.edu . You should be redirected to a CU login page where you can enter your CU password.
Agree to the end-user license agreement.
Note: Windows users can also download via the Windows App Store by adding a their username@clemson.edu address as a "Work or School Account", signing in with their CU password, and clicking on the "Clemson University" tab that will appear at the top App Store menu. Minecraft for Education will be one of the offers in that section, downloadable directly through the App Store.
Students/Faculty/Staff - Purchasing Minecraft for Education
After 25 launches, Minecraft for Education will prompt the user for purchase.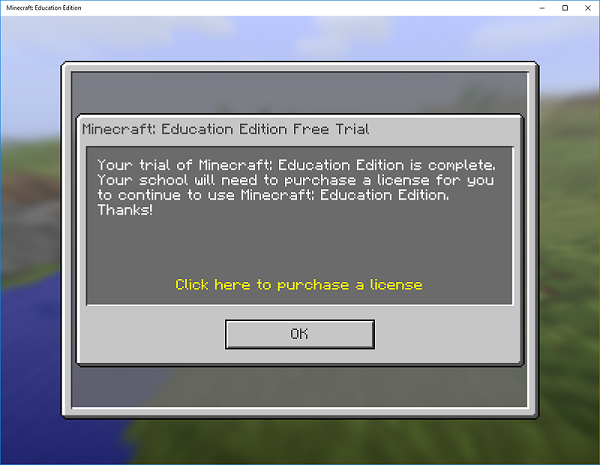 Click the yellow link on the prompt to attempt a purchase.
If you are not yet authorized, you'll be prompted with a form to fill out for access.

Fill this out with your class name and make sure to specify that you need access to "Minecraft for Education" and submit. This will generate a message to the system administrators who will enable your use of the Windows Store for Business. It may take a few days for your rights to be set up. You'll receive and email from the Windows Store for Business when this has been done.
At this point, you can purchase through the above link in the Minecraft application or the link to the Store for Business included in the email mentioned in the previous step.
Agree to the services agreement when prompted. You should fine Minecraft for Education available for purchase in the Windows Store for Business at a cost of $5.00 per one year.

Click "Buy" and use a credit or debit card to complete the license purchase. Note: When finished make sure to uncheck auto-renew.