Adobe Creative Cloud Install
Estimated Reading Time: 3 Minutes
ADOBE CREATIVE CLOUD IS AVAILABLE TO STUDENTS, FACULTY, AND STAFF.
 
Through a partnership with Adobe, Clemson is now licensed for the complete Adobe Creative Cloud - a suite of software that includes titles focused around photography, video, audio, and design.  The Creative Cloud includes access to the following software applications: Photoshop, Lightroom, Illustrator, InDesign, Sign, Acrobat DC, and more.
 
HOW DO I SET UP/ACCESS ADOBE CREATIVE CLOUD?
This article will cover the process for obtaining Adobe Creative Cloud products. All Clemson students, faculty, and staff will now be automatically provisioned an Adobe account using their username@clemson.edu email address.
 
You can get started by going to www.adobe.com and signing in with your username@clemson.edu email address (not g.clemson.edu). If you previously created an Adobe ID with your Clemson email address, you will be prompted to choose which account you want to access. You will need to select Company or School Account. Users who do not have an existing Adobe ID will be automatically redirected to the Clemson login page. As long as your Clemson account remains active you will continue to have access to the full suite of Adobe Creative Cloud products and services.
 
PERSONAL INSTALLATIONS (STUDENTS, FACULTY, AND STAFF)
 
After signing in you will see nine dots in the upper right of the screen. Click on the nine dots and select Creative Cloud.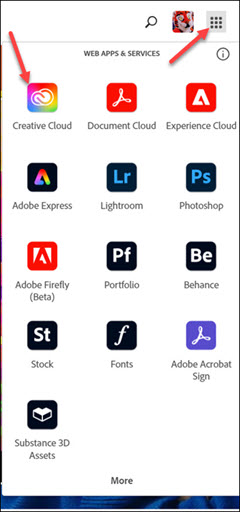 Next you will see the Your Creative Cloud page. One option you will see is DESKTOP Creative Cloud.  Installing this small application will allow you to access your account and manage installations/updates for Adobe products on your computer. Click on Download.  You can use Creative Cloud to manage your other Adobe Apps and files.

 
MANAGING PERSONAL ACTIVATIONS
 
Your Creative Cloud subscription allows you to activate the software on up to two computers simultaneously. If you would like to use Creative Cloud on a third device, you will need to deactivate your previous devices. Detailed instructions for this process can be found in this article on Manage Adobe Creative Cloud Applications.
 

UNIVERSITY OWNED COMPUTERS (FACULTY AND STAFF)
 
Faculty and staff can contact their College consultant for installation assistance or utilize the instructions for personal computers above.  If your machine is managed, use Company Portal (installed on your computer) to install Adobe Creative Cloud.
 

COMPUTING LABS 
 
The full Adobe suite is available in all standard CCIT labs. If you would like to install Adobe products in a departmental lab, please contact your college consultant for installation assistance.  Installers are available through System Center or the software repository for both Windows and Mac labs.
 

WHERE CAN I GET ASSISTANCE ON HOW TO USE ADOBE CREATIVE CLOUD?
 
Adobe has an extensive website containing self-paced tutorials available at https://helpx.adobe.com/creative-cloud/learn.  Additional resources for academics are available at https://edex.adobe.com/en.
 
 
If you have more questions, email ITHELP@clemson.edu or call 864-656-3494.