Adobe Creative Cloud Install
---
Adobe Creative Cloud is available to students, faculty and staff.
Through a partnership with Adobe, Clemson is now licensed for the complete Adobe Creative Cloud - a suite of software that includes titles focused around photography, video, audio and design.  The Creative Cloud includes access to the following software applications: Photoshop, Lightroom , Illustrator, InDesign, Muse,  Edge Animate, Dreamweaver,  Edge Web Fonts, Edge Reflow, Edge Code, Edge Inspect, Flash Pro, Premier Pro, After Effects,  Audition, Acrobat and more.
How do I setup/access Adobe Creative Cloud?
Personal Installations (Students, Faculty, & Staff)
This article will cover the process for obtaining Adobe Creative Cloud products. All Clemson students, faculty, and staff will now be automatically provisioned an Adobe account using their username@clemson.edu email address.
You can get started by going to www.adobe.com and signing in with your @clemson.edu email address. If you previously created an Adobe ID with your Clemson email address, you will be prompted to choose which account you want to access. Users who do not have an existing Adobe ID will be automatically redirected to the Clemson login page.
Signing in with your new Enterprise ID will give you access to extra services like Behance, Prosite, and Typekit. Also, you won't have to worry about renewing your subscription every year. As long as your Clemson account remains active you will continue to have access to the full suite of Adobe Creative Cloud products and services.
After signing in you can find download links for standard desktop applications under Your Services Creative Cloud.  Click on Open.  Next you will see the Welcome to Creative Cloud page. On the right side of the page you will see under Quick links Install Creative Cloud app.  Installing this small application will allow you to access your account and manage installations/updates for Adobe products on your computer.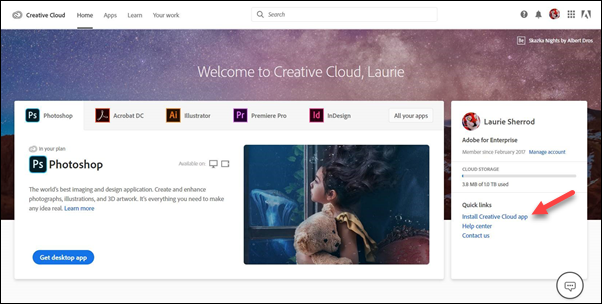 Managing Personal Activations
Your Creative Cloud subscription allows you to activate the software on up to two computers simultaneously. If you would like to use Creative Cloud on a third device, you will need to deactivate your previous devices. Detailed instructions for this process can be found in our knowledge base here: https://hdkb.clemson.edu/phpkb/article.php?id=278
University owned computers (Faculty & Staff)
Faculty and staff can contact their College consultant for installation assistance or utilize the instructions for personal computers above.  If your machine is managed through System Center, use CCIT Software Center (installed on your computer) to install Adobe applications.
Computing labs
The full Adobe suite is available on all standard CCIT labs. If you would like to install Adobe products in a departmental lab, please contact your college consultant for installation assistance.  Installers are available through System Center or the software repository for both Windows and Mac labs.
Where can I get assistance on how to use Adobe Creative Cloud?
Adobe has an extensive website containing self-paced tutorials available at https://helpx.adobe.com/creative-cloud/learn.  In addition, be sure to check out the CCIT training schedule for on-campus learning opportunities. Additional resources for faculty are available at http://edex.adobe.com.
---
Article ID: 361
Created On: Thu, May 19, 2016 at 2:50 PM
Last Updated On: Tue, Feb 4, 2020 at 10:34 AM

Online URL: https://hdkb.clemson.edu/phpkb/article.php?id=361