Evolution EWS Setup
Estimated Reading Time: 2 Minutes
CONFIGURING EVOLUTION-EWS TO CONNECT TO EXCHANGE ONLINE
Note: This information is provided for informational purposes only. This is not an officially supported client at Clemson.
As of Sept 6th, 2022, Clemson's Exchange Online environment requires modern authentication in order to access your mailboxes. To continue using Evolution, you will need to make the following settings changes.
Launch the Evolution application. If this is a new installation, follow the prompts below to configure your account. Otherwise, select the menu items File -> New -> Mail Account, click Next, then follow the prompts.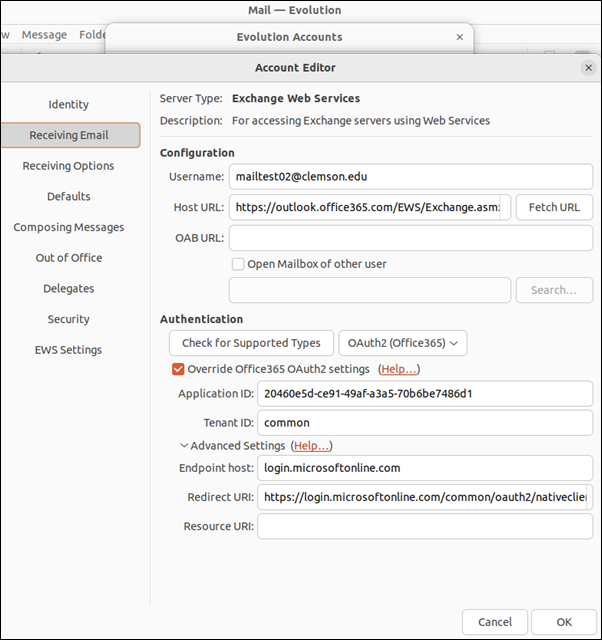 Enter your name and your primary Smtp address, uncheck Look up mail server details… and click Next.
For Server Type, select Exchange Web Services.
For Username, specify your username@clemson.edu
Change Host URL to https://outlook.office365.com/EWS/Exchange.asmx .
Click the Fetch URL button, providing your password when prompted. This will result in the OAB URL field being populated, which is the address from which the client can download a copy of the Offline Address Book.
Change Authentication to OAuth2 (Office365).
Make sure that Override Office365 OAuth2 settings is checked and populate the Tenant ID and Application ID fields as follows:

Application ID: 20460e5d-ce91-49af-a3a5-70b6be7486d1
Tenant ID: common

Click OK.
Finish the New Mail Account Wizard, and you will then be taken to the University's login page. Authenticate with your credentials and perform Duo multi-factor authentication.

If you would like to change Defaults like Draft Messages Folder or Sent Messages folder, select Defaults from the Account Editor: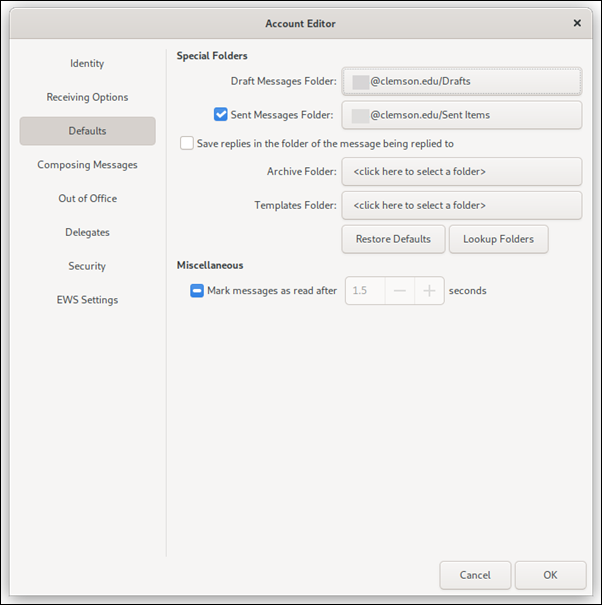 MORE INFORMATION
Article about Evolution-EWS and OAuth2 for Microsoft 365: