How do you use Clemson Box? (FAQ)
Article ID: 546 | Last Updated: Tue, Apr 18, 2023 at 4:04 PM
Box
Box is a cloud storage solution adopted by Clemson as a location where users may store or share files.
In order to use Box for cloud storage, users with a valid Clemson username may log in to https://clemson.box.com .  The first time they do this, they will be asked for a Clemson username and password.  Their new account will then be created. 
These products have been branded to incorporate the Clemson logo and provide users with a custom portal to Box
All Clemson account users will have unlimited storage space.  If you experience any difficulties with storage space, then please contact ithelp@clemson.edu .
Yes.  You can download Box Drive for Windows or Mac.  Once you log in to https://clemson.box.com, in the upper right-hand corner you will see your initials or picture in a circle.  Click on the arrow beside the circle, and select Apps. Search for "Box Drive".  Download the version for your computer operating system.
Information about downloading Box Drive.
Step-by-step instructions for downloading, installing and using Box Drive at Clemson .
After installing you will see this screen. Enter your Clemson username@clemson.edu.  Click on Next.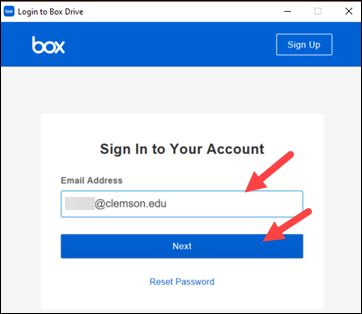 You will be given a Clemson log-in screen where you will put in your Clemson username and password. 
After this, a Box item will appear in your File Explorer or Finder.  You will see all of your Clemson Box folders and files.  Note that the default setting on Box folder is to not sync - but allow you to use without a browser from the folders list. You will need to be online to use them. If you need a copy of the files to be on your computer for offline use, you may right-click on any folder to install offline access for that folder.
The Box Drive app for IOS and Android will allow you to see your folders too.  
Shared folders for groups or classes can now be set up by using  Clemson Central.   Click here for an article document with instructions on using Box with Groups from Central.
When I go to https://clemson.box.com  and attempt to sign in, I get an error.
This usually happens if you have previously gone to https://www.box.com instead of https://clemson.box.com and created an account using your username@clemson.edu as your Box username.  Put in a ticket to ITHELP@clemson.edu  and request that your external (box.com) and Clemson (clemson.box.com) accounts be joined.
When I invite my students to view a folder, they cannot sign in.
This frequently happens when either you invite username@g.clemson.edu or they try to log in using username@g.clemson.edu. Make sure that for students, you invite username@clemson.edu (no "g") and they use just their username and password to log in. Also, make sure they are going to https://clemson.box.com and not www.box.com.
How do I transfer ownership of a folder to another user?
Open the folder in your Box. Click on the Share button and give the second user Editor rights to the folder. Ask them to accept. Then open the folder again. This time click on the three dots beside the second person's name. You will have the option to change their rights to Owner. (If you need to share just one file, put it in a folder first and then follow these instructions.)
How long do items remain in the trash?
30 days.
How many versions are kept for edited files?
100 versions.
How long are old versions of files kept?
Until they are overwritten. For example, if a file has 100 versions, the oldest version will no longer be available the next time a new version is saved.
Will I keep my Clemson Box account after I graduate or retire from Clemson?
No. You should make a copy of your data before leaving. When your Clemson username and password stop working, you will no longer be able to get into Clemson Box.
Is it okay to store sensitive data in my Clemson Box account?
For employees who need to store sensitive university information, it is recommended that you use a Clemson Box Secure Folder. Click here to download the application for this.
What is the default setting on shared folders?
If you click on Share to share a folder - and then send out the URL for that folder - only current Collaborators will be able to see the folder by default. If you want others (perhaps students who do not have Box accounts) to see the folder, you can change the setting to "Open" - then anyone with the link will see the folder. 
If you have additional questions or have issues, please contact the CCIT Help Desk by email at ithelp@clemson.edu or call 864-656-3494.