HOW TO: Set up or Configure Email Accounts and Update Email Forwarding Settings
Article ID: 123 | Last Updated: Mon, Apr 18, 2022 at 10:31 AM
The email control panel can be accessed on the Clemson website at the following address:
https://www.clemson.edu/emailforwarding
This tool provides users with the ability to set up their Clemson Outlook Exchange (employees only), Clemson Google Apps for Education, and change the password on their Google Apps.
After clicking on the link, you may be prompted to login.  Once prompted, log in with your Clemson username and password, and authenticate with Duo*. Use the Email Control Panel to setup Google accounts and email forwarding.
Employees will automatically have Outlook Exchange set up as their primary Clemson email and do not need to do anything else. Their email address will be Username@clemson.edu


Students will need Google Apps for Education so they can use Gmail as their primary Clemson email.  To get that, they need to put a checkmark next to "Use Google Apps for Education" and "Deliver email to my Google Apps for Education mailbox".  Note the gmail address will be the Clemson Username@g.clemson.edu


Google Apps is optional for employees. Faculty or staff can visit the Email Control Panel and put a checkmark beside "Use Google Apps for Education", then click Save at the bottom of the screen to create their own account. This includes unlimited storage in Gmail and Google Drive. If employees are using Outlook Exchange for email, it is recommended that they not check "Deliver email to my Google Apps for Education mailbox".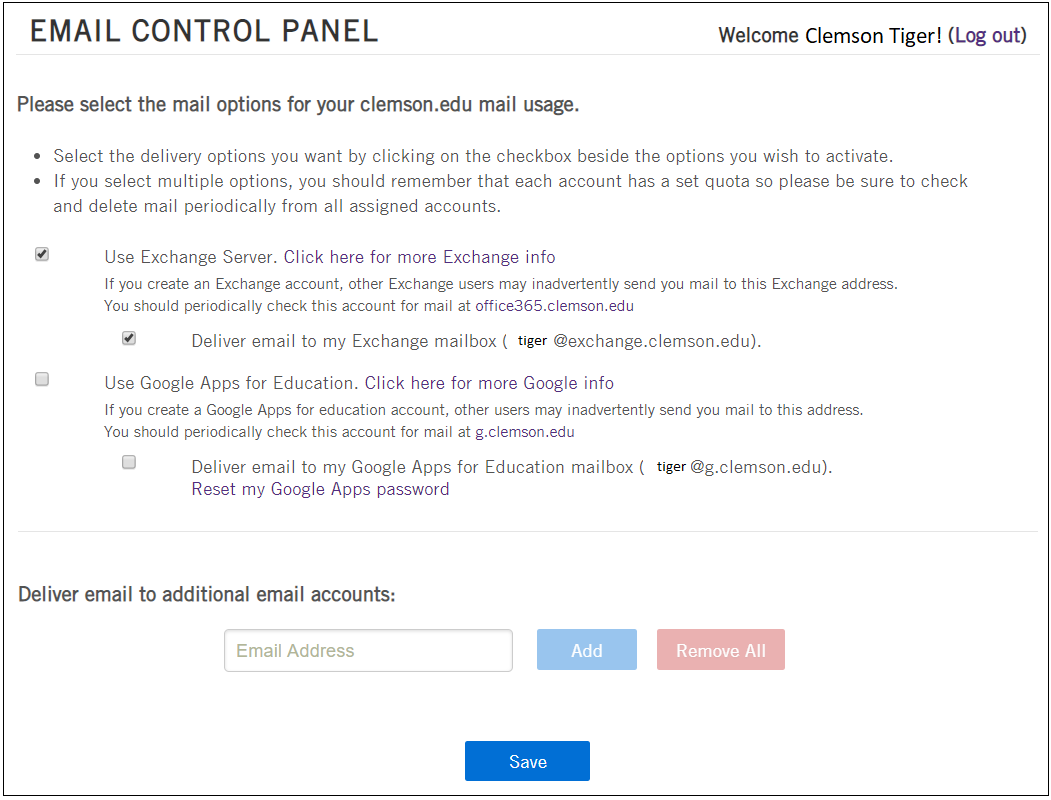 After making any changes to the mail selections, click the blue Save button at the bottom of the page. To leave the page, click on Log Out in the upper right hand corner.
---
Email Control Panel
NOTE: Students are encouraged to use the Clemson Google Apps for Education account instead of forwarding elsewhere.  This will allow them to send to Clemson class and other mailing lists. Employees should consult with local computer support staff before setting up a new account.  In general, employees who need access to shared resources such as calendars or rooms, will need Exchange.  Instructors may decide to use the Google Apps mail account so that they can share a calendar with their students.  Both are described below.
Exchange:
On this part of the page, employees will see a check box labeled "Use Exchange Server" and below it one labeled "Deliver email to my Exchange mailbox". The former will enable the employee exchange email account which can be accessed at outlook.office365.com with the employee's Clemson email address (username@clemson.edu) and password. The latter check box delivers email to this Exchange account, which must be checked to receive email sent to username@clemson.edu.
NOTE: If you enable Exchange, and wish to have emails forwarded somewhere else as well, you will need to set a rule within Exchange to do this. Changing forwarding on the email forwarding page by typing addresses in the "Deliver email to additional email accounts" will NOT work. Full-time employees will see these two boxes checked by default. They may uncheck them if they do not want to use Outlook Exchange.


Google Apps account:
On this page, both students and employees will see two final check boxes that say "Use Google Apps for Education" and "Deliver email to my Google Apps for Education mailbox" respectively. The former enables the Clemson Gmail account which can be accessed at g.clemson.edu with the Clemson username and Google Apps password. This account will have the email address username@g.clemson.edu (where username is the Clemson username). Once the account is enabled, a link will appear below the last check box to "Reset my Google Apps password", in case the user needs to reset the password for this Google Apps account. Checking the last check box will forward any mail sent to username@clemson.edu to username@g.clemson.edu .


Manual Forwarding (

not recommended

):
While this feature currently still exists, it is not recommended as we cannot guarantee delivery to mailboxes not managed by Clemson. If the originating organization implements a security policy preventing forwarding, the service you forward your mail to will discard the message and you will never see it. This often affects important messages from companies like your bank that might be sending private or sensitive information. 
At the bottom of the page, below the checkboxes, there is a space to add email addresses to deliver to additional accounts. External mail sent to your username@clemson.edu will also forward to any email addresses in this list (which can be Clemson email addresses or external email addresses). 


Save: 
Click on the Save button at the bottom if you've made any changes. 
*If you get an error saying that you cannot authenticate with Duo, that means that you have not registered yet. You should go to 2fa.clemson.edu and follow the steps there to sign up with Duo.