Onboarding
To access your account and begin the registration process for Clemson, you must first do what is known as "onboarding" where we finish initializing your account in our system.
To do this, you will need your XID number, as well as your Activation code (Both of which you should have received with your acceptance packet)
Note: If you do not know your XID number or Activation Code, please refer to the section below in the FAQ.
To begin the onboarding process, go to myusername.clemson.edu
This web page works best on Google Chrome, so if you receive any errors when trying to access this page and you are using a different browser, please try again with Google Chrome.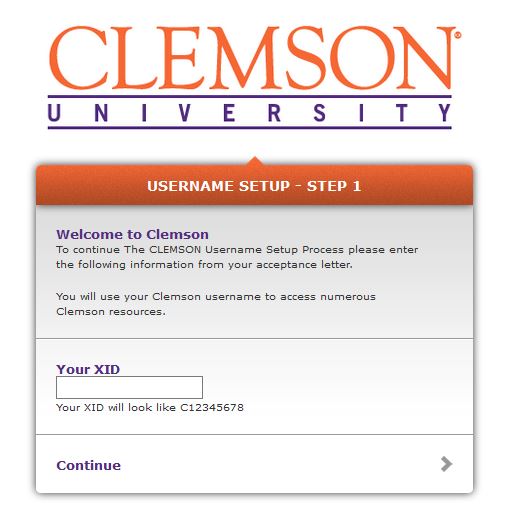 2. Enter your XID number in the format shown above, and the press "Continue"
3. Enter your Activation Code
4. You will then be given your username, which will remain the same for the duration of your time at Clemson, so please take special note of this.
You will also be prompted to create your Clemson password. Best practices for passwords can be found here.
5. Once you have created your Clemson password, the onboarding process is complete, which will allow you to sign in to iRoar to pay your deposit, and complete the next steps as a new student.
FAQ