How to install Software Center
Article ID: 855 | Last Updated: Tue, Oct 12, 2021 at 10:57 AM
The easiest way to install popular software at Clemson is to use the CCIT Software Installer.  Here are the instructions to install Software Center.
1. Open your web browser and navigate to http://download.clemson.edu .
 There will be a section near the top on Software Installers.  Click on here next to CCIT Software Installer for Windows.

2. You may need to log in using your Clemson username and password.
3. You should see the installer when it is finished downloading. Click on it and select Run.

Click Yes if it asks if you would like to make changes to your computer.
4. Once the application launches, click the Install button.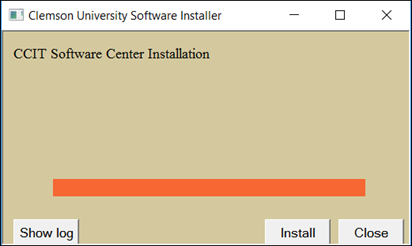 5. It will then prompt you to accept the CCIT Software Center Terms and Conditions. Clicking Yes will allow Software Center to install on your machine. Software Center will inventory and collect hardware configuration information, and currently installed software. It uses this information to display available software that can be installed on your machine.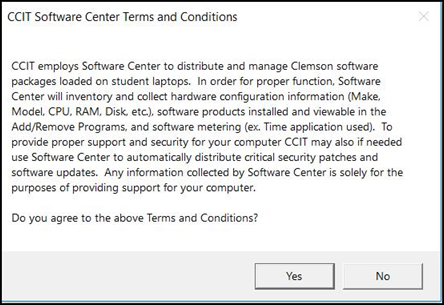 6. Once the Software Center software has been installed, you can find the program by clicking on Windows Start or Windows Search and typing in Software Center.  When you click on Software Center the first time, it will install the application. You will see some progress bars.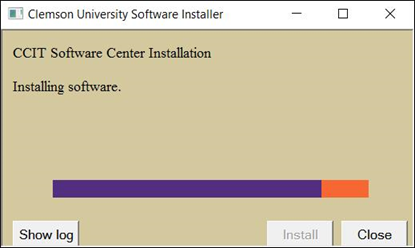 7. When it finishes, the bar will be purple and you will click on Close.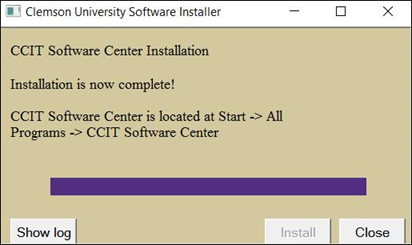 8. When it opens, you may have the option to install "CCIT Configuration and Setup" under "Available Software".  You may also need to wait up to fifteen minutes for software to populate.
To learn about how to use Software Center, see article 10104.
For more questions about installing Software Center, email ITHELP@clemson.edu or call 864-656-3494.