Installing iPrint Client for Windows
Article ID: 698 | Last Updated: Mon, Aug 27, 2018 at 4:59 PM
iPrint is the service that Clemson uses to manage network printers for employees of Clemson University, and install them on your computer using the iPrint client.   A different service called PawPrints manages student and many computer lab network printers.
This article gives an overview of installing and using iPrint on Windows.
You must first download the latest version of the iPrint client by going to http://iprintsvr.clemson.edu/ipp and clicking the "Install iPrint Client" button in the upper left corner (pictured below).   If any printers appear on this server, please ignore them.

Once you click this, it will be added to your downloads and will be named "nipp.exe". Depending on your browser, it may show up on the screen after downloading and you can double click it to run the application. If you do not see it on your screen, it will be located in your Downloads folder as seen below: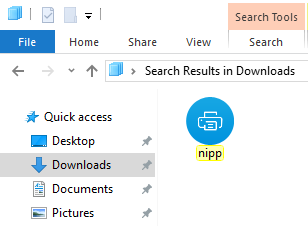 Once you click to run it, it will ask if you want to make changes to this device. You should select "Yes" and it will bring up the installer.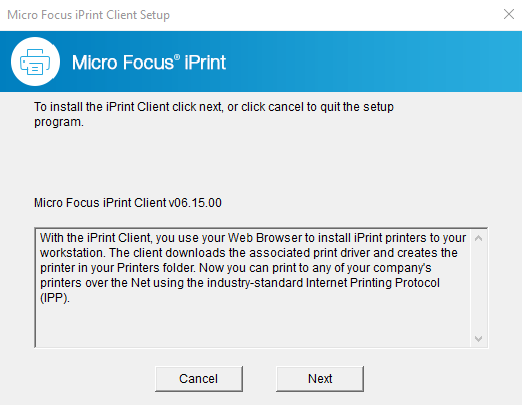 You will need to click "Next" to begin, and you will need to click "Next" one more time to accept the license agreement. On the final screen, it will complete the install and have a greyed-out "Finish" button. Once the installation has completed, the Finish button will no longer be grey, and you will be able to click that to close the window.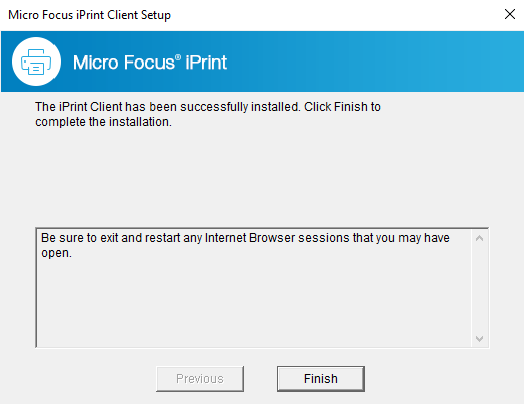 As the image above says, you must close and restart any browser you have open before installing the printers. Once you have reopened your browser, there are two different web addresses where you will be able to locate printer drivers. You may need to look at both of the links to find the correct printer:
http://iprintsvr1a.clemson.edu/ipp
http://iprintsvr1b.clemson.edu/ipp
The easiest way to find the correct printer is to click on the "Printer Location" tab at the top in order to sort alphabetically by location. 

You can then look for the building the printer is located in, and the printer name on the left should give you enough information to determine which is the correct one you need. 
To install the printer, click on the printer name on the left.
Depending on which browser you use, you may get an additional dialogue box before it will start the install:
For Edge, you may see something asking if you want to open MicroPrint iPrint Printer Installation Utility, and you should select "yes".
In Internet Explorer, it may ask if you trust this link, and you will select to "allow" it.
In Firefox, you may see that it has blocked a pop-up. This will appear as a yellow banner across the top. To allow the popup, select "options" then click "Allow popups for iprintsvr1.clemson.edu/ipp"
Once you allow the popup, it should open a dialogue window that tells you the link must be opened with another application, and it should ask you to open it with MicroPrint iPrint Printer Installation Utility. You should click the button at the bottom to "open the link". 
In Chrome, it will ask to open MicroPrint iPrint Printer Installation Utility, you should click "open". 
Next, you will typically see a pop-up (shown below) asking if you would like to install the printer, and there is a check box which will allow you to go ahead and set it as your default printer. 
The first time you install a printer, iPrint will ask you to sign in.  Use your Clemson username and password.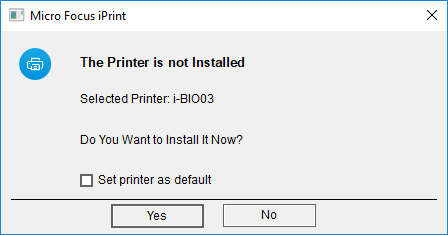 Once it completes the install, you should see a message like the following:

After the installation is complete, the printer should appear in your list of printers. You will simply need to select that printer if you did not make it your default during the install.  If an iPrint printer asks you to sign in when you click Print, use your Clemson username and password.  When you print successfully, the iPrint client will report "Document was cancelled".  This is normal for our iPrint and does not indicate a problem.  Some printers will hold the job and wait for you to login and release the print jobs.  Others cannot do that and will simply print the job immediately.
If you have any issues installing the iPrint client, or installing the drivers for a printer, please email IThelp@clemson.edu with "iPrint" in the subject line.