HOW TO: Submitting a Plot (Poster) with a Departmental Account Number
Article ID: 231 | Last Updated: Fri, Apr 10, 2015 at 2:25 PM
Departments can use a departmental account number against which to charge plots (posters). Those plots must be submitted using the special departmental queues, named "CCIT Plot DEP 36" and "CCIT Plot DEP 42." Installers for these queues can found on the CCIT page under Current Faculty & Staff > Printing & Plotting.
When submitting a job to these queues, you'll be prompted for a departmental account number in the format XXXX-XX-XXXX-XXX-XXX-XXXXXXX - account, fund, department number, program, class, and project.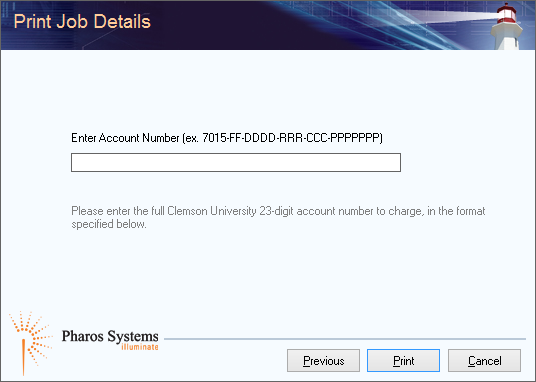 If a dialog box pops up indicating a problem with the departmental account number you've used, note the section of the account number that has been flagged as invalid and email ithelp@clemson.edu or call (864) 656-3494. The pool of valid account numbers for Paw Prints is updated once a semester but if, for example, a new project number is created mid-semester, it may need to be added to the list of valid account numbers in Paw Prints by hand.