Article ID: 2087 | Last Updated: Tue, Mar 30, 2021 at 10:13 AM
Clemson requires a digital signature on many of its forms. The purpose of this requirement is to speed up the signing process while reducing the use of paper. Whereas in the past customers would be asked to print out a form, sign it, scan it, then e-mail back to our organization (in which the process is repeated again and again until all necessary signatures are collected), now they are instructed to sign a PDF version of a form electronically using a digital signature.  This article will guide you through the process of setting up your own self-signed digital ID which you will then use to place your digital signature.
HOW TO CREATE A DIGITAL ID
This article is based on the latest version of Adobe Acrobat.  Other PDF viewers can be used, but the process of creating a digital signature may vary.  If you have trouble creating a digital ID, please contact CCIT for assistance.
To begin, open a form you wish to sign and look for a digital signature field. These fields typically resemble those in the image below.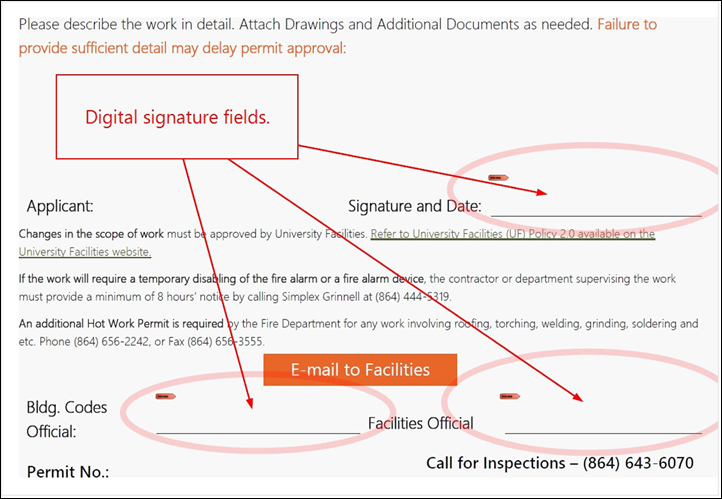 If you do not have a digital signature, clicking a digital signature field will open a wizard that will prompt you to set one up. Click a digital signature field to open the wizard.
You will be prompted that a digital signature is required. Click on Configure Digital ID.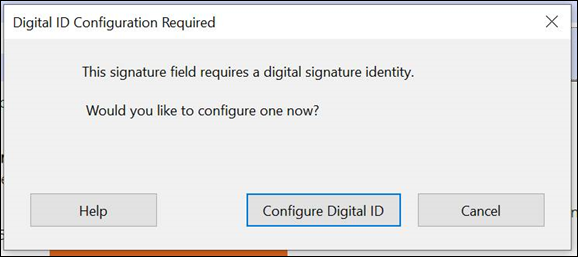 Click the radio button for Create a new Digital ID and then click Continue.  The screens may be slightly different depending on your operating system.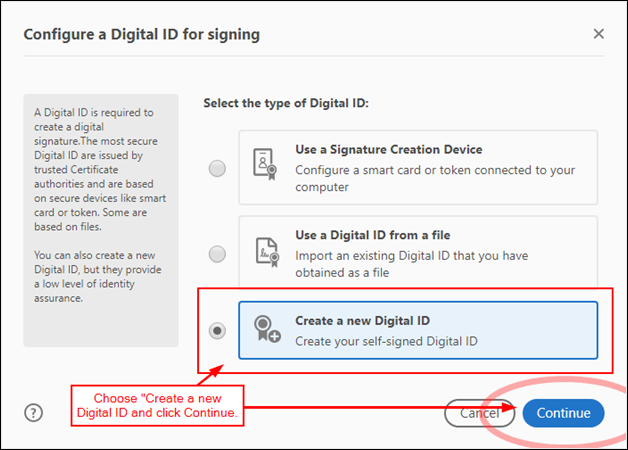 WINDOWS CERTIFICATE STORE
If you are using Windows, you will be presented with an option of saving your digital ID to a file or to Windows Certificate Store.  Saving to File will require you to create a unique password. If you lose the password, you'll have to create another ID.  Saving to Windows Certificate Store does not prompt you to create a new password.  So click on the button beside Save to Windows Certificate Store and then click Continue.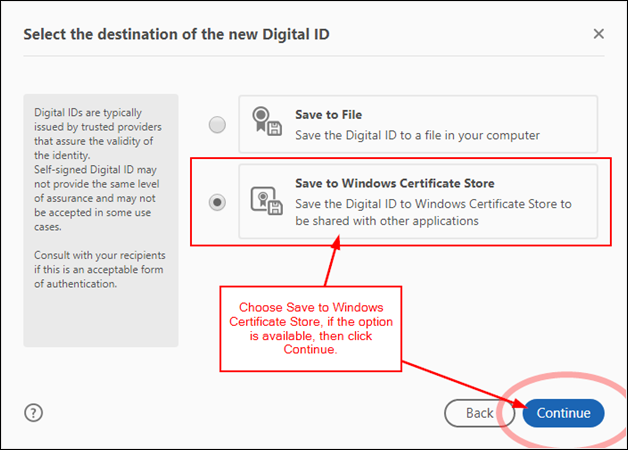 MAC USERS
If you are using a Mac, you will be prompted to create a new ID with a password. Be careful to keep a record of this password, as without it you'll be required to create a brand-new ID.  There is not Windows Certificate Store option on a Mac.
COMPLETING THE PROCESS
The final step asks for your personal identification.  This will be included in your digital signature when you sign a form.  
Enter your name as you would like for it to appear in your signature.  Your Organizational Unit depends on your place of work. Examples include the College of Education, CUPD, CCIT, or Planning & Design.  Organizational Name is usually Clemson University.  Use your  Clemson Email address.
The default values of the remaining fields are sufficient for creating a digital ID.  After entering your information, click Save to exit the wizard.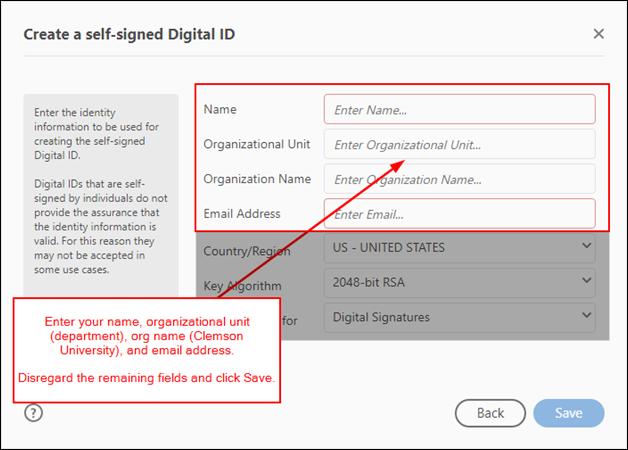 USING YOUR DIGITAL ID TO SIGN FORMS
With a newly created digital ID, you are now able to sign forms that contain digital signature fields.  Now that you have an ID, clicking on a digital signature field will start a wizard for signing the document.  After clicking on a digital signature field, you will see this screen. Select your signature and click on Continue.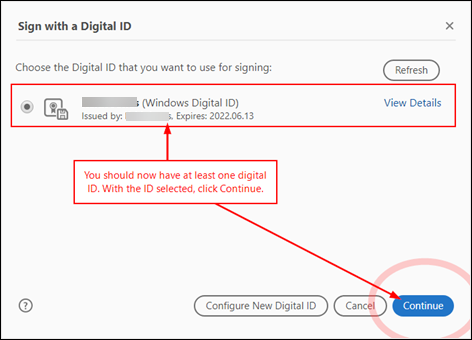 The wizard will provide a sample of what your signature will look like when you apply it to the PDF document. Click Sign to finish the wizard. You will be prompted to save the file.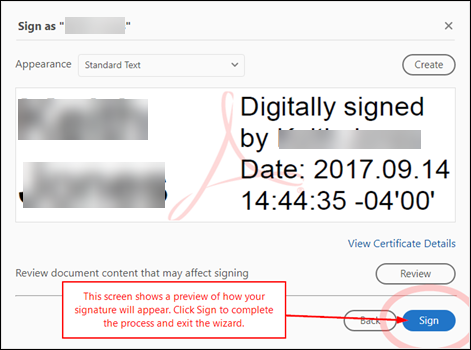 SIGNING IS THE SAME AS SAVING
There is no need to save a document once it's been signed and saved.  However, if you make additional changes to a signed document, you will need to save those changes by using the typical Save / Save As option.  Note that signing is usually the final step of submitting a document.  All fields should be filled before applying a digital signature.
HERE IS A VIDEO ON HOW TO CREATE A DIGITAL ID FOR DIGITAL SIGNATURES:


If you have more questions, email ITHELP@clemson.edu or call 864-656-3494.