Upload or Download Files in Clemson secure CUI environment in Ferry
Article ID: 2003 | Last Updated: Tue, Feb 8, 2022 at 11:36 AM
HOW TO DOWNLOAD/UPLOAD FILES INTO OR OUT OF THE CLEMSON SECURE CUI ENVIRONMENT

PREREQUISITES
1.  Have secure file transfer software (sftp) installed on your desktop/laptop.
For Windows desktop/laptop, you should install the free WinSCP software from https://winscp.net/eng/index.php
For Mac, install Cyberduck https://cyberduck.io/download/
Note: the CCiT software site lists WinFTP for Windows and Fetch for Macintosh. These will also work, but Fetch is now free for only 14 days, and WinSCP is already installed on your VDI image.

2.  Be sure to understand the policies for correct handling/use of Controlled Unclassified Information (CUI).
CUI should never leave the protected environment with the exception of technical reports to the funding agency or other exceptions approved by the Clemson Information Security Office. Data whose status has been revised from CUI to public or other non-CUI status may leave the CUI environment; please note that only the funding program director may make this change in status, in writing.
3.  You will need to be an existing user with an account in the Controlled Unclassified Information (CUI) environment.
4.  ferry.clemson.edu provides TEMPORARY storage for secure CUI environment file ingress/egress. Files will be deleted when they are 30 or more days old.  (Scroll to the bottom of this article to see a diagram of how Ferry fits into the infrastructure.)

FROM YOUR MACINTOSH DESKTOP/LAPTOP/SYSTEM
The short story (for Mac or Windows):
| | |
| --- | --- |
| Protocol: | SFTP |
| Server: | ferry.clemson.edu |
| Port: | 9000 |
| Username: | ClemsonUserID |
| Password: | XXXX |
1.  Start Cyberduck.
Click on the Globe icon on the left.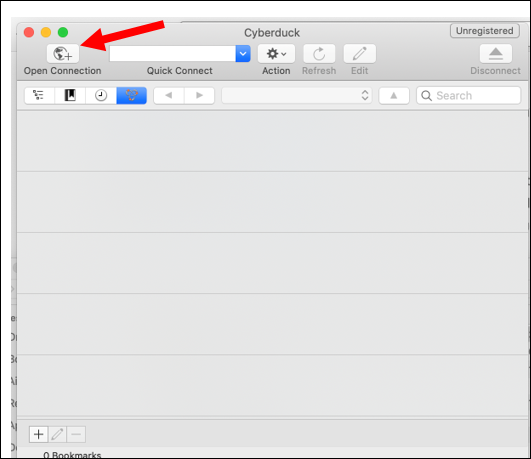 2.  Notice that the app defaults to the FTP protocol – you need to switch to the SFTP protocol by clicking on the pull down menu.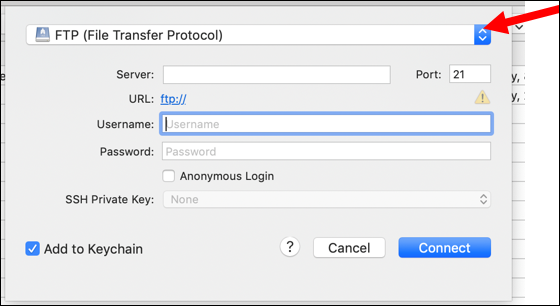 3.  Use these settings:
Protocol:  SFTP protocol
Server:  ferry.clemson.edu
Port: 9000
Username: Clemson username
Password: Clemson password
Click the Connect button.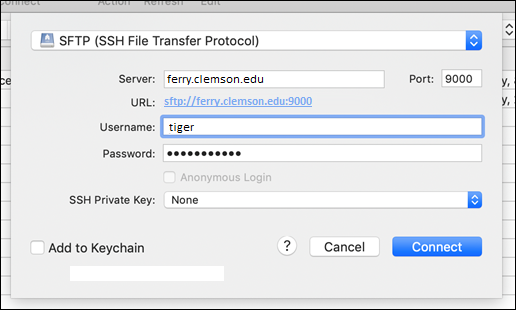 4.  You may see this error message – do not worry about it. Click the Allow button.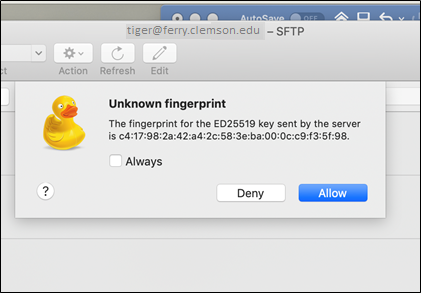 5.  Once you're successfully logged in you will see your folders and files.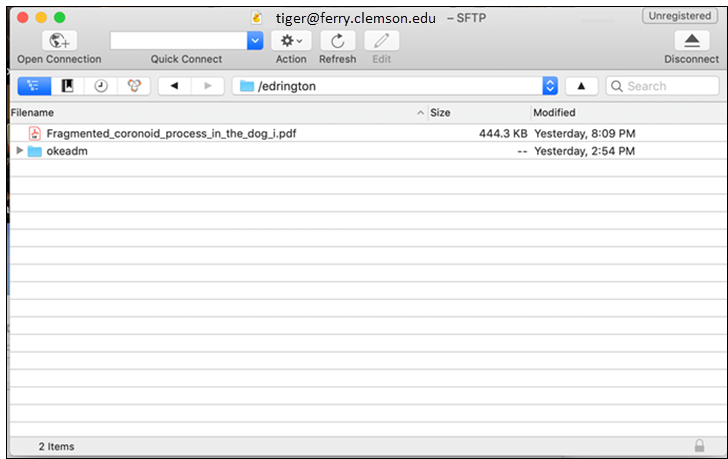 6.  Highlight the file you want to download. (A)
Click the action icon. (B)
Slide down to select Download. (C )
Notice the Upload option is in the same menu. (D)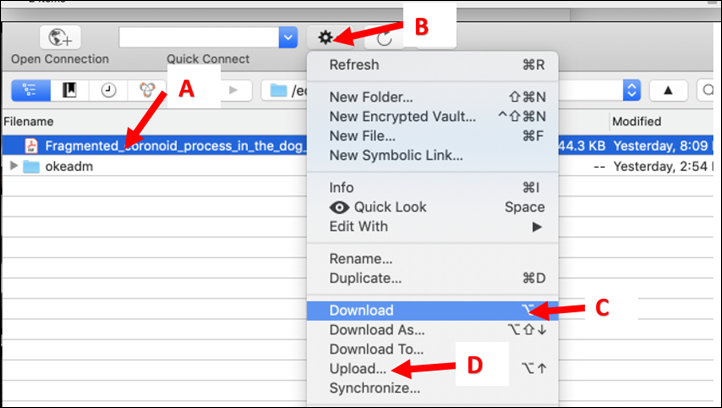 7.  When you are finished, click on Disconnect.

DIAGRAM OF HOW FERRY FITS INTO THE INFRASTRUCTURE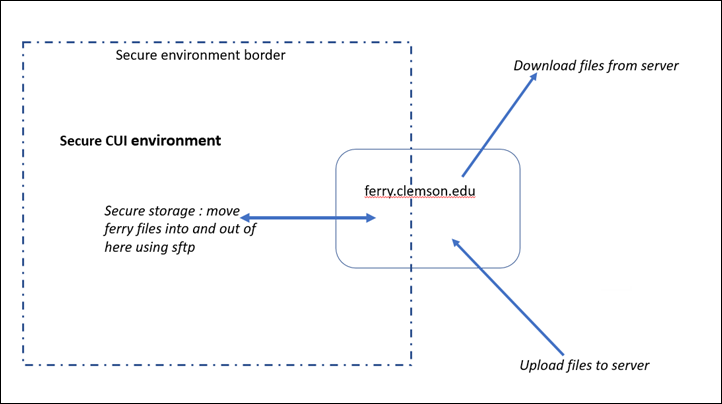 If you have more questions, email ITHELP@clemson.edu or call 864-656-3494.