Unable to watch Ensemble recordings : black screen with spinning wheel
Article ID: 1079 | Last Updated: Tue, Oct 1, 2019 at 1:17 PM
Unable to watch recording.  See a black screen with a spinning wheel like the video is trying to load.
Description (Solution or Workaround)
Verify whether your web browser has an Ad Blocker.
Use the whitelist feature of your Ad Blocker to whitelist our Ensemble Media Server (https://ensemble.clemson.edu).

Whitelisting Ensemble Media Server in Chrome Browser with AdBlock
1. Click the Chrome Extension called AdBlocker.  This may look like a red stop sign in the top of your web browser
2. Click the ADB stop sign button in your browser.

3. Then click the Gear icon.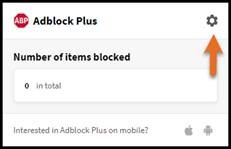 4. Next click the Whitelisted websites link on the left side menu.
5. Enter https://ensemble.clemson.edu and then click the Add Website button.
6. This should add the website to their whitelisted applications.
7. Refresh your browser and try accessing the video again.
If you have more questions, email ITHELP@clemson.edu or call 864-656-3494.